Welcome to Caledonia Township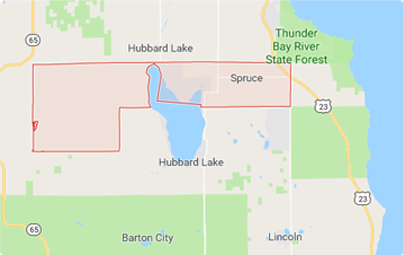 Spruce is an unincorporated community within the township about three miles west of U.S. Highway 23, approximately 15 miles south of Alpena . A large Statue of Paul Bunyan with Babe the Blue Ox was on site near the F-41 junction for many years. It was moved a few miles north to downtown Ossineke, on US-23.
Caledonia Township in Spruce, Michigan is located in Alcona County in the Northern Lower Peninsula. The County seat is Harrisville, Michigan.
Spruce is located in Caledonia Township on the Northern border of Alcona County. It began as a lumbering town when Donald A. Hecox established a sawmill there in 1898 and became it's first postmaster. Spruce is located five miles east of Hubbard Lake and today serves its tourist and resident population.
Important News and Updates
Please click here to Sign up for our email notifications. Notifications will include township notices, agendas, meetings and more.